Pilgrim
As the Pilgrim, players traverse different environments on a journey to learn about and build upon their faith! Pilgrims undertake quests that are fun, faith-filled, and catechetically sound. Along the way, they'll meet many saints and people to help and guide them! And speaking of guides, the Pilgrim is always accompanied by a dove, a symbol of our true spiritual guide, The Holy Spirit.
Saints and Holy People

Saints are holy men and women who lived extraordinary lives of virtue, were followers of Jesus, and have already entered Heaven. The Pilgrim meets many holy men and women, learns about their lives, and how they are examples to be emulated. Saints include St. Peter, St. Ignatius, St. Mary, St. Francis, St. Martin de Porres, St. Katharine Drexel, and many others!
Priests and Sisters

The Pilgrim visits many churches along the way. Players meet priests and religious sisters who offer guidance and advice while teaching important and valuable lessons.
Dr. Kathleen & Assistant Jerome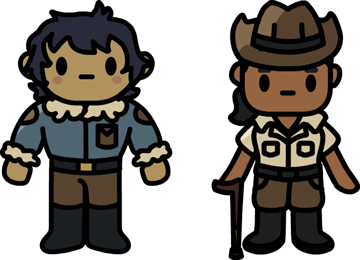 NEW!! Distinguished archeologist, Dr. Kathleen, and her Assistant, Jerome, ask for the Pilgrim's help in their quest to discover ancient and holy artifacts that lay beneath the surface of Wanderlight. As the Pilgrim finds and digs up treasures, Dr. Kathleen explains the artifact and describes its meaning.
Lay People

While traveling the various lands, the Pilgrim meets many lay people who work in the church and the community. These people show the Pilgrim the many ways to serve God and the Catholic church as disciples of Jesus in today's world.
Scientists & Inventors

Catholics have contributed to many scientific discoveries throughout the centuries. The Pilgrim meets faithful servants in science and technology, including a meteorologist, an inventor, and a doctor.
Animals and Helpers

As Catholics, we believe we must be good stewards of God's creation. The Pilgrim interacts with animals and sometimes their helpers and learns that all creatures and our earth must be cared for and respected.
Many Other Characters!

It's never dull in Wanderlight! There are so many "friends" to meet.