Perfect for all the children in your life, Wanderlight™: A Pilgrim's Adventure!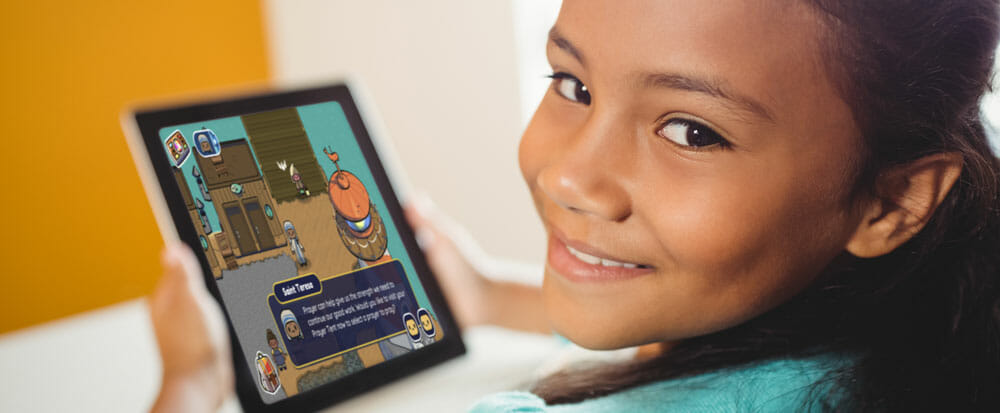 Captivate and motivate players of all ages with this faith-filled, adventure-driven Catholic video game! Players engage in exciting gameplay and explore the faith in this seven-level version of Wanderlight intended for individual enjoyment. Players move at their own pace to complete quests that invite them to make ethical and moral choices while interacting with characters that include saints and holy people. Each level ends with a special invitation for Pilgrims to encounter Christ in prayer and look back upon their adventures to reflect on what they've learned. Players ages 5 to adult will spend hours exploring the wonderful world of Wanderlight in the role of the "Pilgrim," all while practicing how to "shine their light" and live as a faithful disciple of Jesus Christ.
If you are ready to invite people of all ages into the faith in an entirely new way, then introduce them to Wanderlight: A Pilgrim's Adventure™ where the Pilgrim can show them how our Catholic faith shines!
Wanderlight can be purchased for an annual subscription ($31.99 per year) at the Loyola Press Store!

Wanderlight can be purchased for a monthly subscription ($2.99 per month) or an annual subscription ($31.99 per year) plus applicable app store taxes. Download your FREE 3-day trial today!
The Wanderlight app is only available for download on tablets. The app is not compatible with phones.
This version of Wanderlight is not intended for classroom use and does not include multi-license Administration system with reporting capabilities.